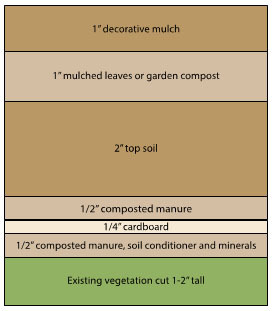 So you want a new landscape bed, but dread stripping the sod or digging up the existing weeds in a large area? Don't turn to diesel fuel or Roundup to kill the existing grass or weeds, do it organically by making lasagna mulch!
Making a Lasagna Landscape Bed
Making lasagna mulch, also known as sheet mulching, "is a gardening technique that suppresses weeds and builds fertile soil. In sheet mulching, thick layers of organic matter are placed on the ground like layers in a lasagna. These layers are then left to decompose, ultimately creating a rich planting medium (compost) that is terrific for vegetable gardens and ornamental planting beds… The mulch will settle at soil level after decomposition."
For more information about making Lasagna Mulch, click here.