Our end goal for the project was to provide the owners with a private outdoor space that kept with the architecture of their Tudor style home. Traditionally, Tudor style involves many different materials because in the days of the Tudors, their homes where ransacked by wars so frequently that they had to rebuild them out of whatever rubble remained. However, since we had a very small space to work with, one of our main concerns was to keep it from feeling any smaller. With this in mind, we stayed to a limited number of textures and colors for our hard materials.
Before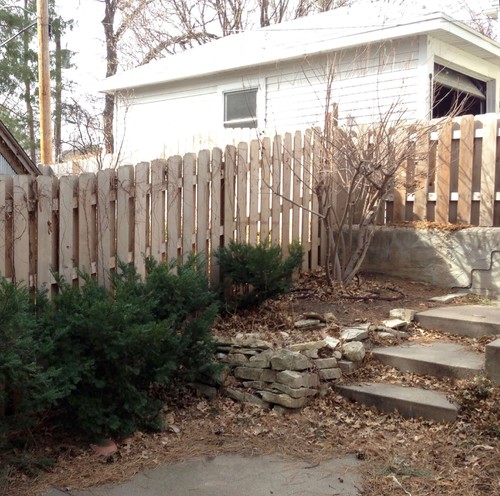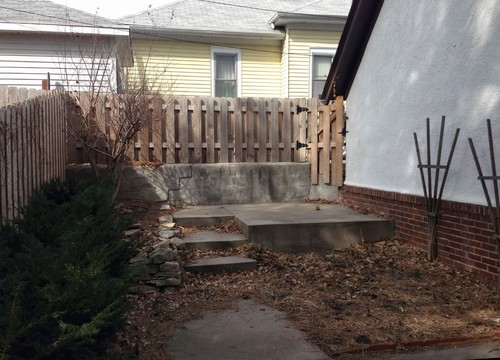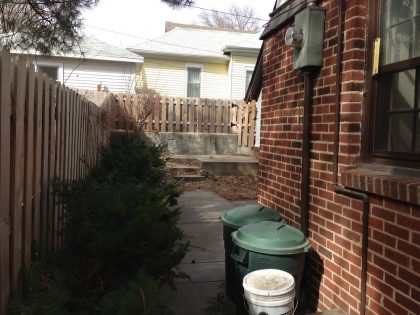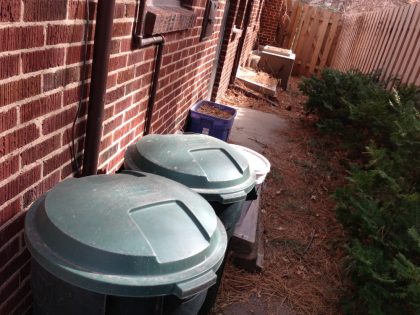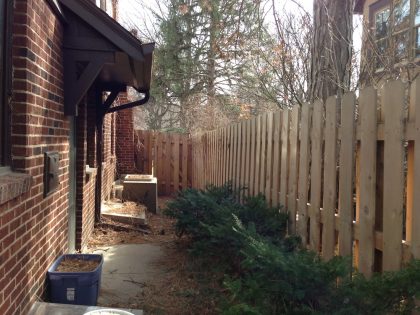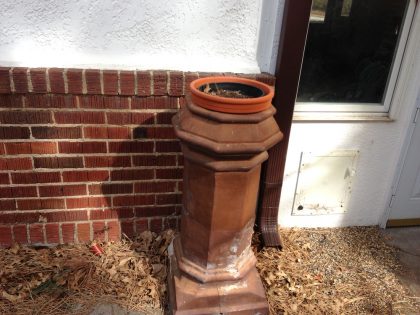 After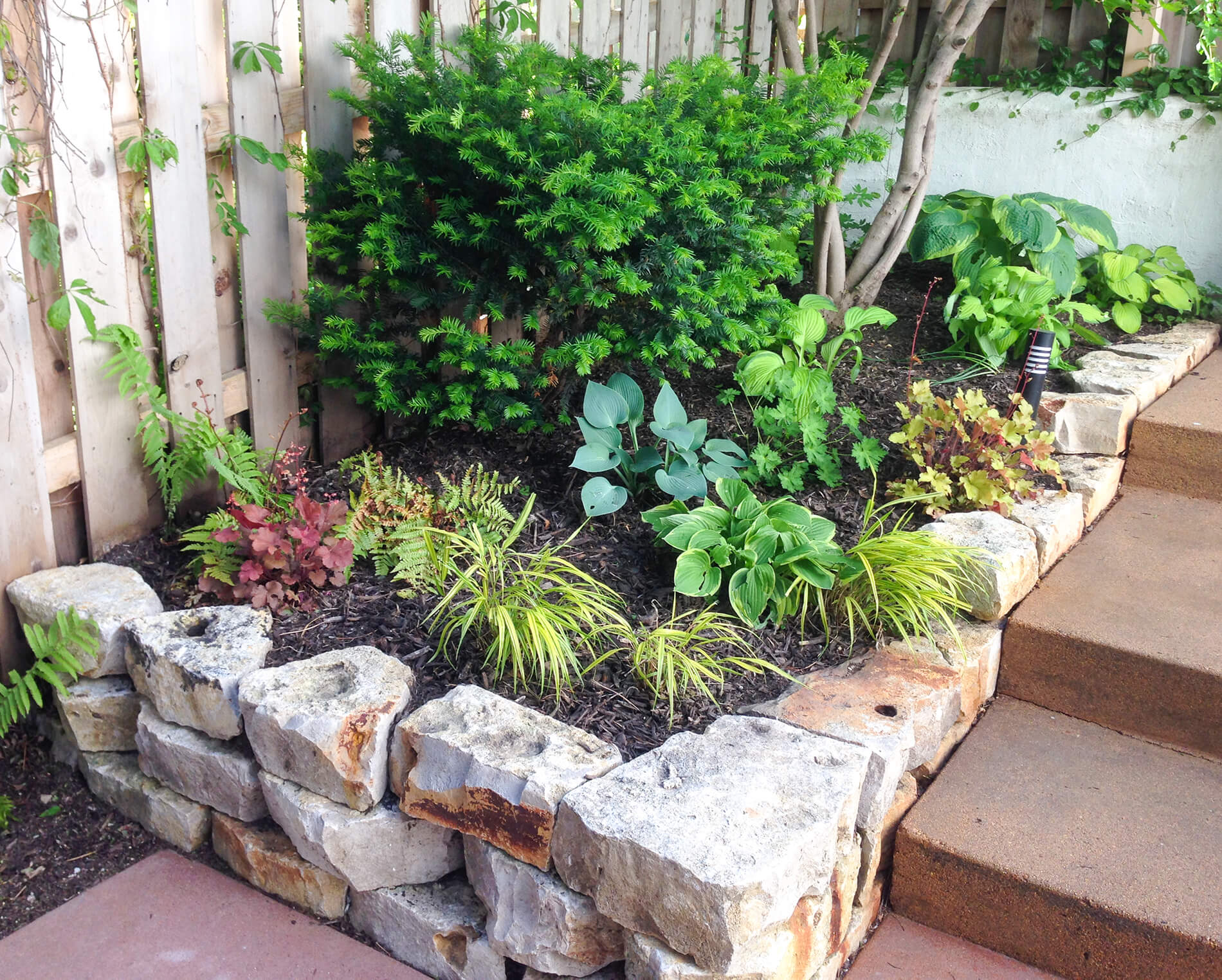 To preserve the Old World style, we chose reclaimed limestone for the retaining wall and used a dry laid technique common in older European buildings.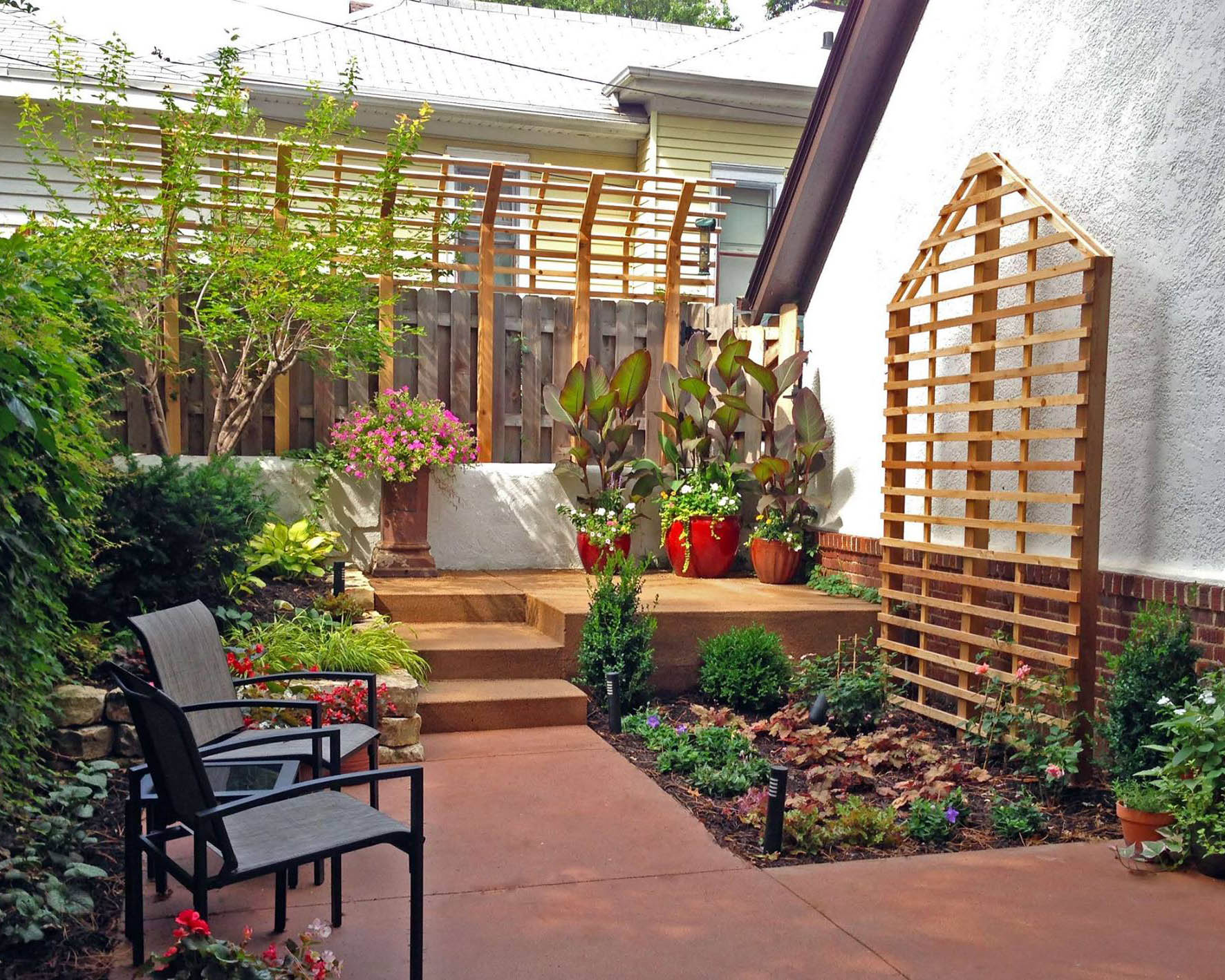 The existing privacy fence was wooden, so we chose wood for the pergola. The pergola added to the top of the fence provides more privacy. The trellis echoes the angle of the roofline and brings the vastness of the white stucco wall down to scale. In a few years, it will provide a place for the clematises to climb. At night, newly installed lighting casts shadows of the trelllis up the white, stucco wall bringing the vastness of the wall down to scale. We repurposed one of the former chimneys of the house to serve as a terra-cotta plant stand and focal point at the top of the stairs.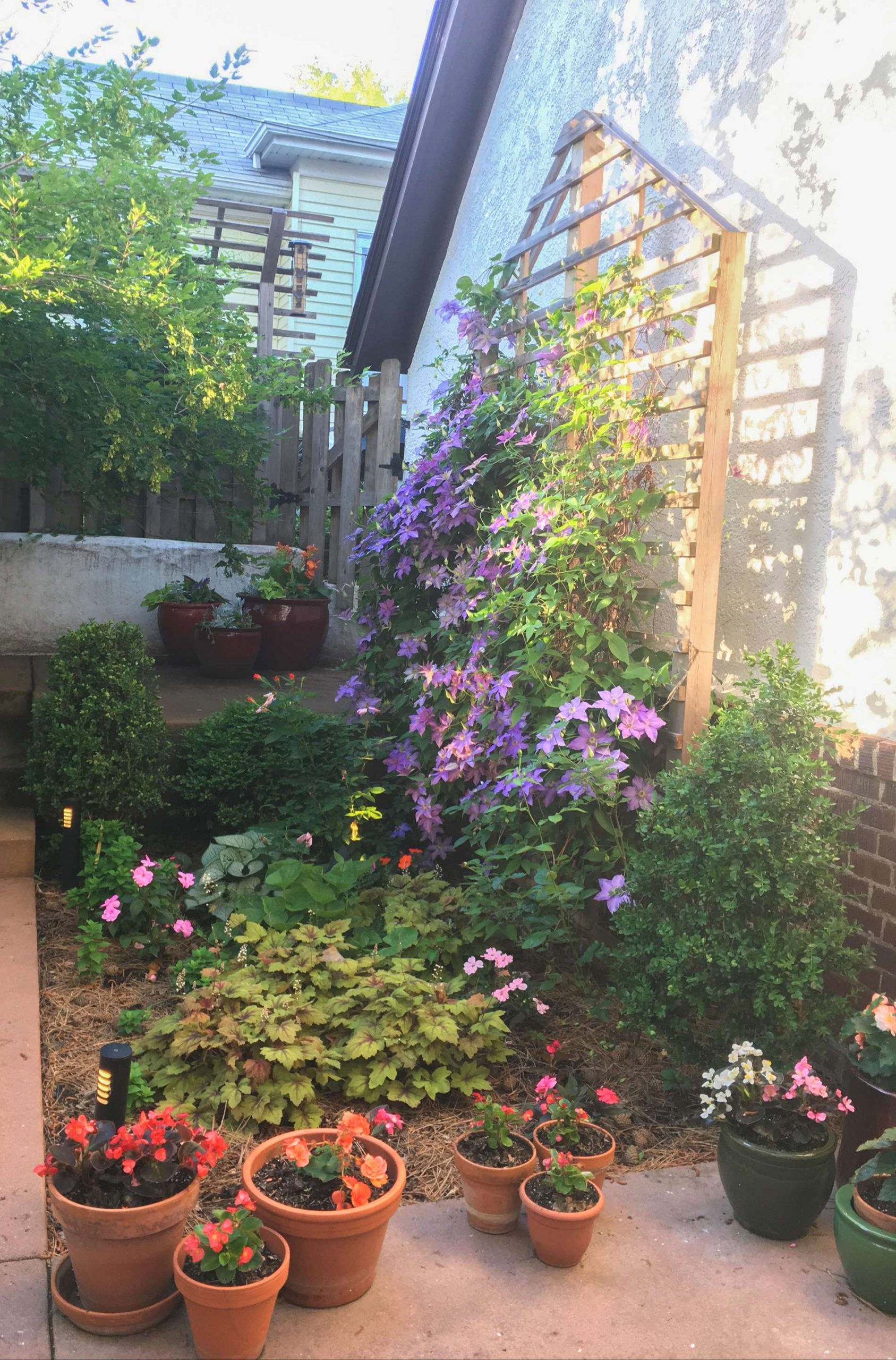 We tore out the old concrete on the main level and poured the new patio using colored concrete and gave it a larger footprint to provide more living space. The terra-cotta color brings in warmth and blends with the brick facing. To liven up the worn concrete surface of the platform, we chose a stain in a similar color but different enough from the color of the lower level to indicate the platform is a separate space.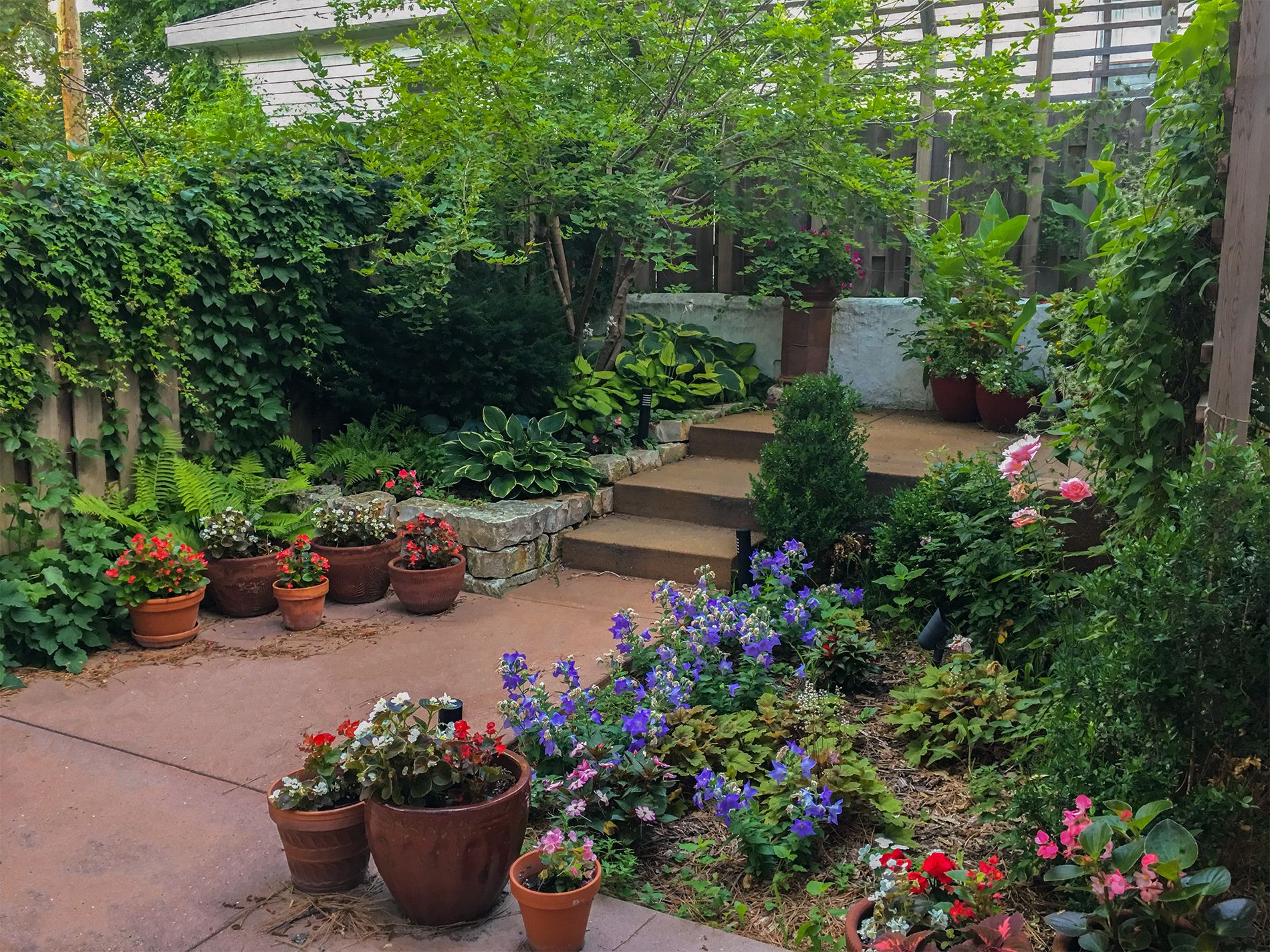 We removed the overgrown yews along the fence and replaced them with Autumn Charm anemones. Other plant choices include Green Tower boxwood, Green Velvet boxwood, All-The-Rage rose, Sweet Sensation rose, and purple bellflowers.
Potted begonias, cannas and other annuals provide splashes of color and depth as they draw the eye to the edges and corners of the space and serve to hide its boundaries.
The couple likes to travel to the Mediterranean, so we wanted our plant selections to reflect that mix of formal with tropical that one would find in the southern coastal regions of Europe.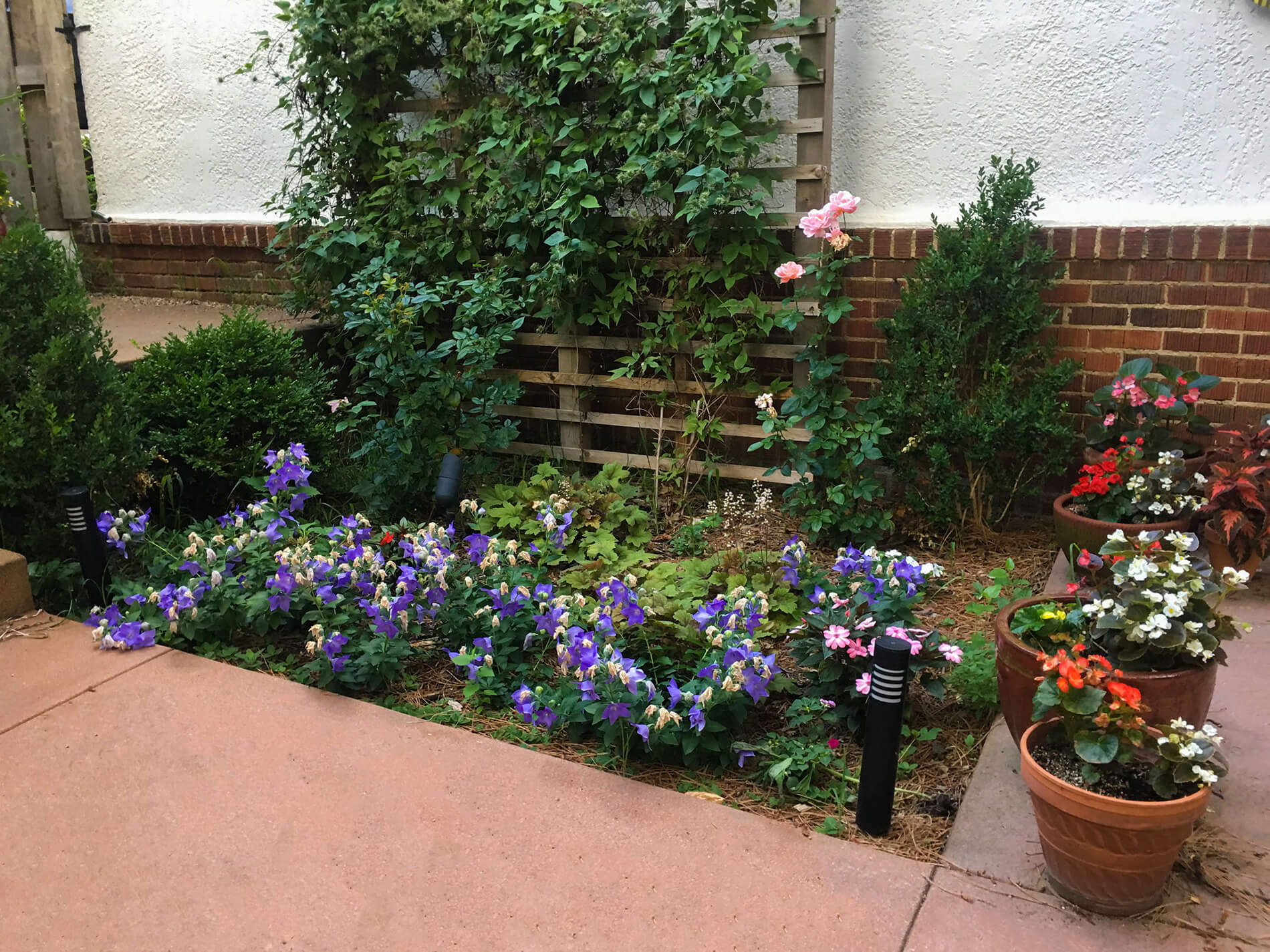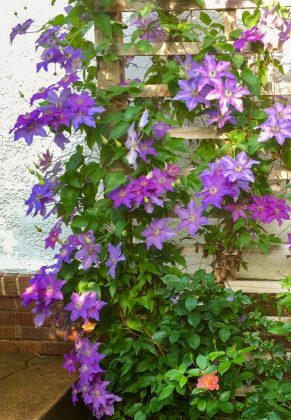 Now, four years after renovation, the trellis provides a place for the clematises to climb.